Hi Megan, glad to have you on board the VeeV blog for a quick session. Let's start from the fashion scene of your hometown, the beautiful waterfront city of Cleveland, Ohio: does it jive of a certain flavor when it comes to fashion?
Megan: When it comes to fashion, Cleveland is all about being down to earth. Everyone has their own unique style that is also practical to wear everyday. You won't often see the more artistic or crazy looks that you'd see in New York, but instead will see classic and comfortable pieces.
[Megan of The Style Foundry also does virtual shopping for clients]
Q: Though our readers hail from all over the globe, we all share the common goals of wearing more what we love and being comfortable in what we wear. From your experience with styling, what are some key points that has always worked for getting your clients to love what they wear?
Megan: The keys are: 1. Figuring out what style you like or what pieces grab your attention. 2. Knowing your daily dress code and any styling preferences you have. 3. Learning how much variety you prefer in your wardrobe.
Q: Your love for styling began when you were in 4th grade. Today, you are a stylist and owner of The Style Foundry, with your own mobile fashion truck! Looking back, what were some particular milestones that had helped and encouraged you to keep going forward to realize your passion?
Megan: The support of my family, and in particular my parents and husband, is what has driven me to where I am today. They knew I had a real passion and talent for this business and could see how I truly wanted to help people. Pairing that with continuous jobs and education in my field made my dream continue to turn into a reality.
Q: Styling can be a rather intimate affair as you get to see your client's entire wardrobe and tell them what they should or should not be wearing. Tell us about a memorable styling session between you and a client where it had taught you something special, funny or insightful.
Megan: Through my experience styling, I have learned that it is most important to follow my major rule:

"If you don't love it, don't get it." Every client seems to look to me for approval when they aren't a fan of something they have or are trying on, but at the end of the day, they are the ones who will be wearing the clothes. When you love what you're wearing, it makes you feel excited, confident and put-together. So my greatest joy is when I see that come to fruition with a client, and when they realize what those pieces they love are.
Q: Since starting The Style Foundry, you have also added a mobile fashion truck to your business. What was the spark that got you to purchasing a vehicle and turning it in to an extension of your styling business?
Megan: My main goal with my business is to offer a full service styling experience so you no longer have to stress about getting dressed. My styling services currently address almost every part of that cycle; however, when it comes to personal shopping- clients either do not have enough time to go out or are uncomfortable at stores. By adding on a mobile boutique, I am able to bring the store directly to them without the stress and hassle of being out with everyone else. I am also able to offer them pieces that they won't find in stores- helping them curate a wardrobe all their own- that are quality, stylist-approved and at an affordable price. It's been so nice to offer this new service to my customers.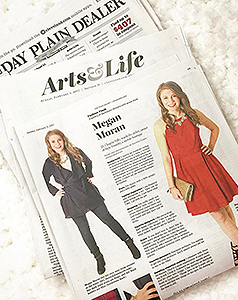 Thank you Megan for sharing some of what it's like to be a stylist and entrepreneur! In the next session with Megan, she shares more on her mobile fashion truck. If you love pop-up stores and shopping from mobile markets where good food and fine fashion collide, you'll love our next article with Megan Moran. So keep an eye on the VeeV blog!
If you've enjoyed this column and have questions about personal styling, Megan Moran can be reached at megan@thestylefoundrycle.com for styling appointments or to book a mobile boutique session. Megan Moran is an entrepreneur at heart who loves to help others. She created The Style Foundry in 2010 with the intention to teach people how to take the stress out of getting dressed.