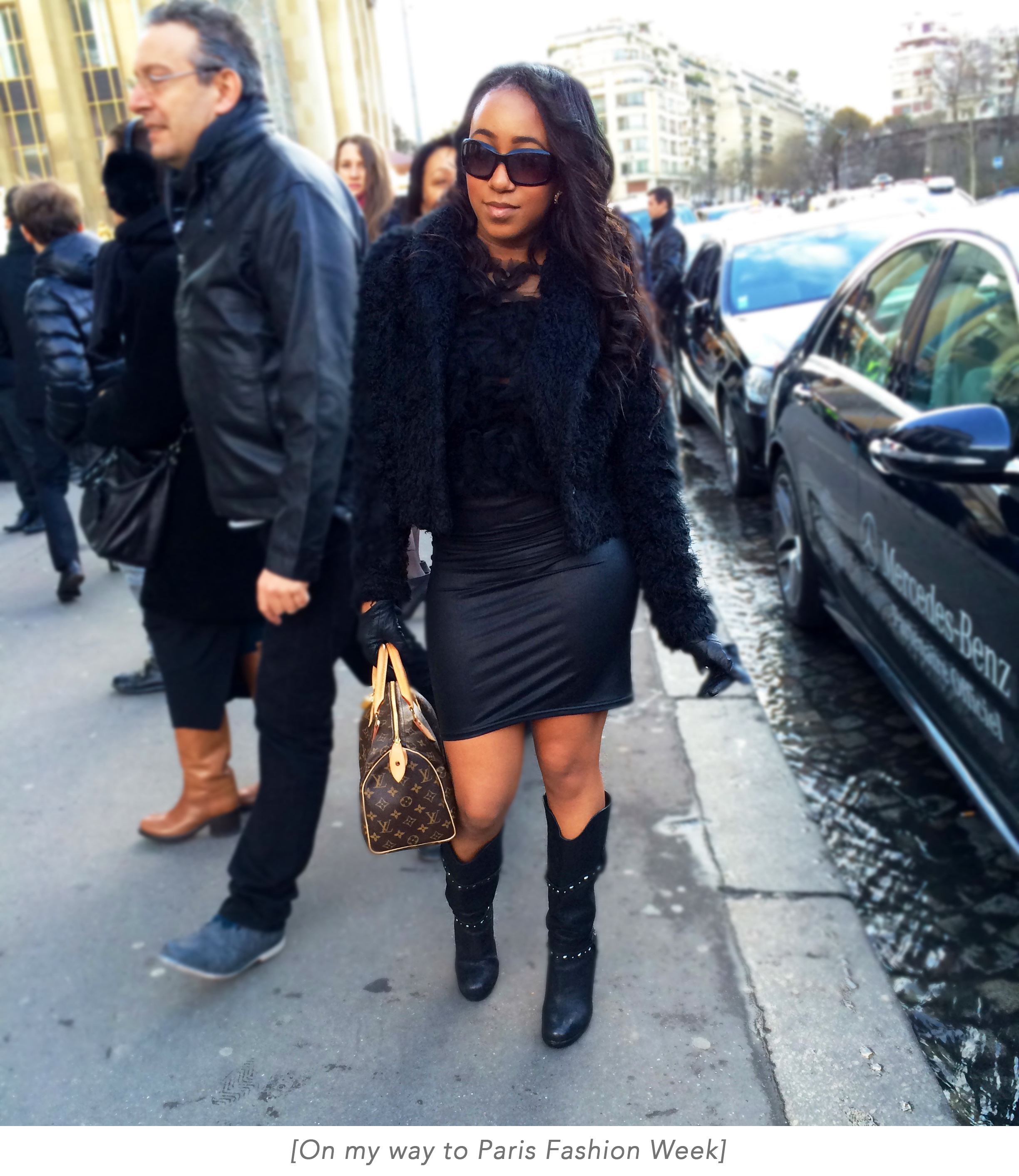 Paris is the center of the universe; well at least for those in the fashion industry. A day in the life of a fashion stylist can be both glamorous, but yet exhausting. From roaming the streets of Paris and drawing inspiration from the fashionable people gallivanting down Champs-Élysées, to taking a tour of the famous Musée du Louvre looking at art works painted by Leonardo Da Vinci, the fashion capital of the world offers grand opportunities to get your creative juices flowing by providing excellent services to your clients. During the day, I worked as a sales associate at Rick Owens, where I helped clients find the right look, and monitor the store's inventory and stockroom.
The beauty of this profession is that no two days are ever the same. One day you may be backstage at Paris Fashion Week dressing the models, and the next you may be styling looks for a photoshoot. That is what makes being a wardrobe stylist so amazing, and because of this, I will share with you a glimpse into a day in the life of myself.
My typical day as a stylist in Paris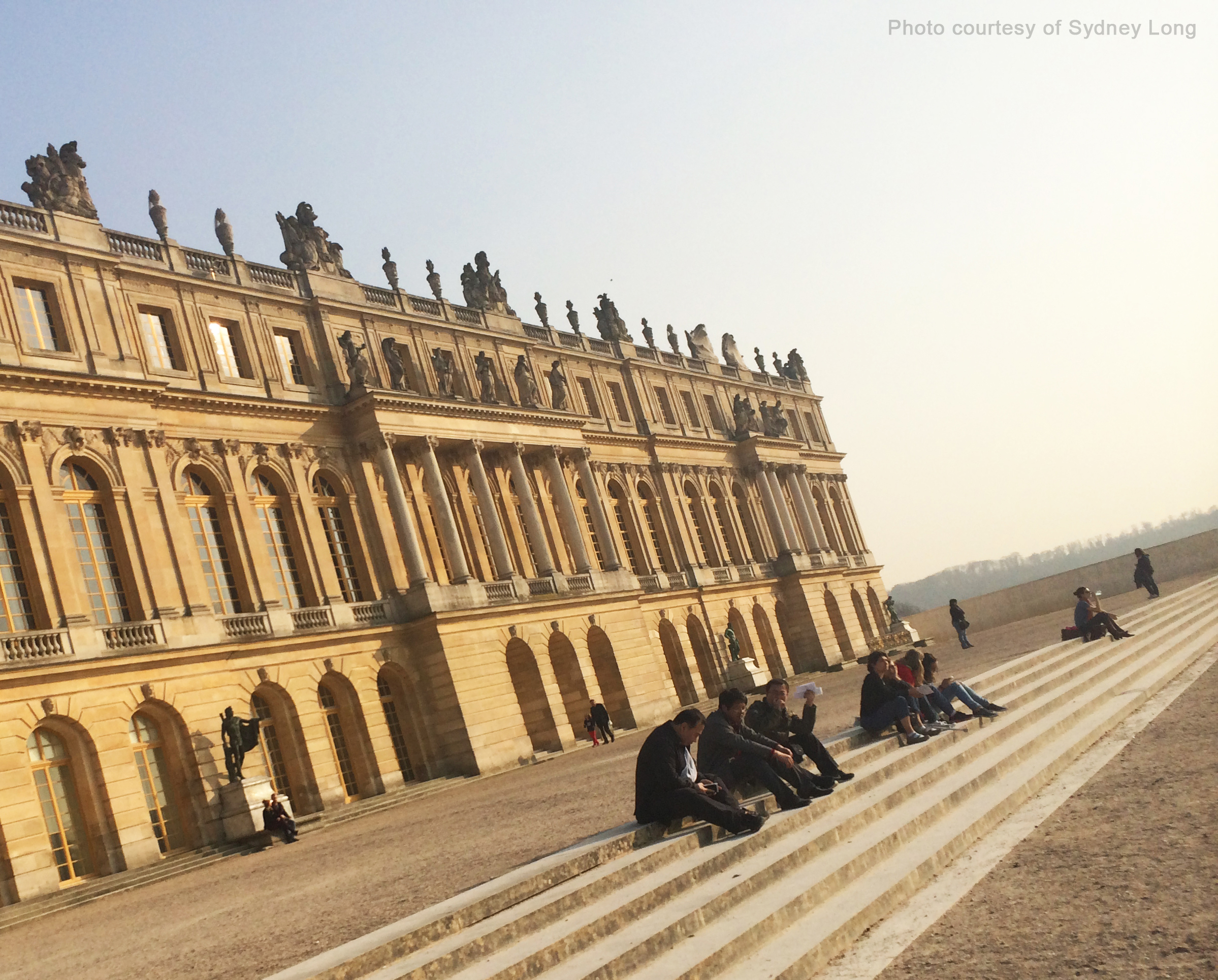 [Paris is a city with many beautiful architecture. This was taken on the steps of Versailles, a royal château located in an affluent suburb of Paris.]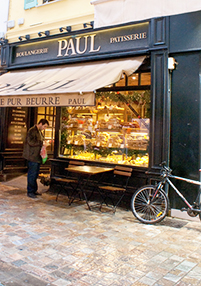 A typical day for me starts at about 8:00 a.m. Getting dressed for work, I always wear all black because it looks so simple, but yet chic. I keep my accessories to a bare minimum (stud earrings and my favorite Cartier bracelet). As far as makeup, I use my Laura Mercier tinted moisturizer, Mineralized Skin finish from MAC cosmetics, and my MAC waterproof eyeliner, and mascara. I also keep MAC's Blot Powder in my purse, just in case I get oily or need a touch up throughout the day.
Before heading to work at Rick Owens, I grab a Caramel Macchiato from the local Starbucks on Avenue de L'opera, and catch up with fashion blogs on my iPhone, on sites like fashionbombdaily and vogue. Fashion changes every day so I have to make sure that I'm constantly up to date on the latest trends. I try to grab a seat at the window and people watch to see if I can think of any ideas when styling my potential clients. After, I walk over to Café Paul to get my favorite buttered croissant. It's light on my stomach but it will last me till lunchtime.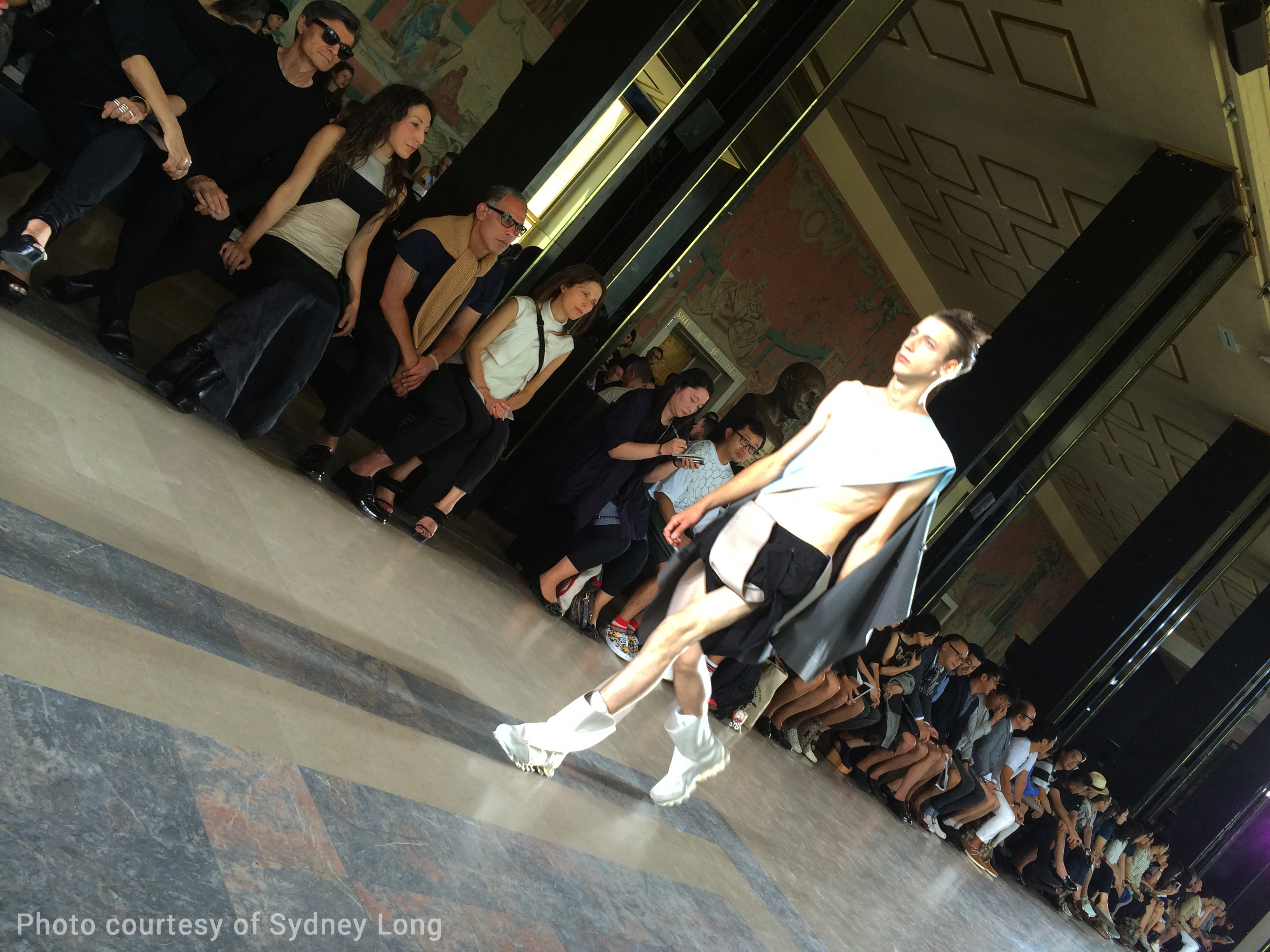 [Attending the Rick Owens Men's Collection during Paris Fashion Week.]
…with some not so typical clients!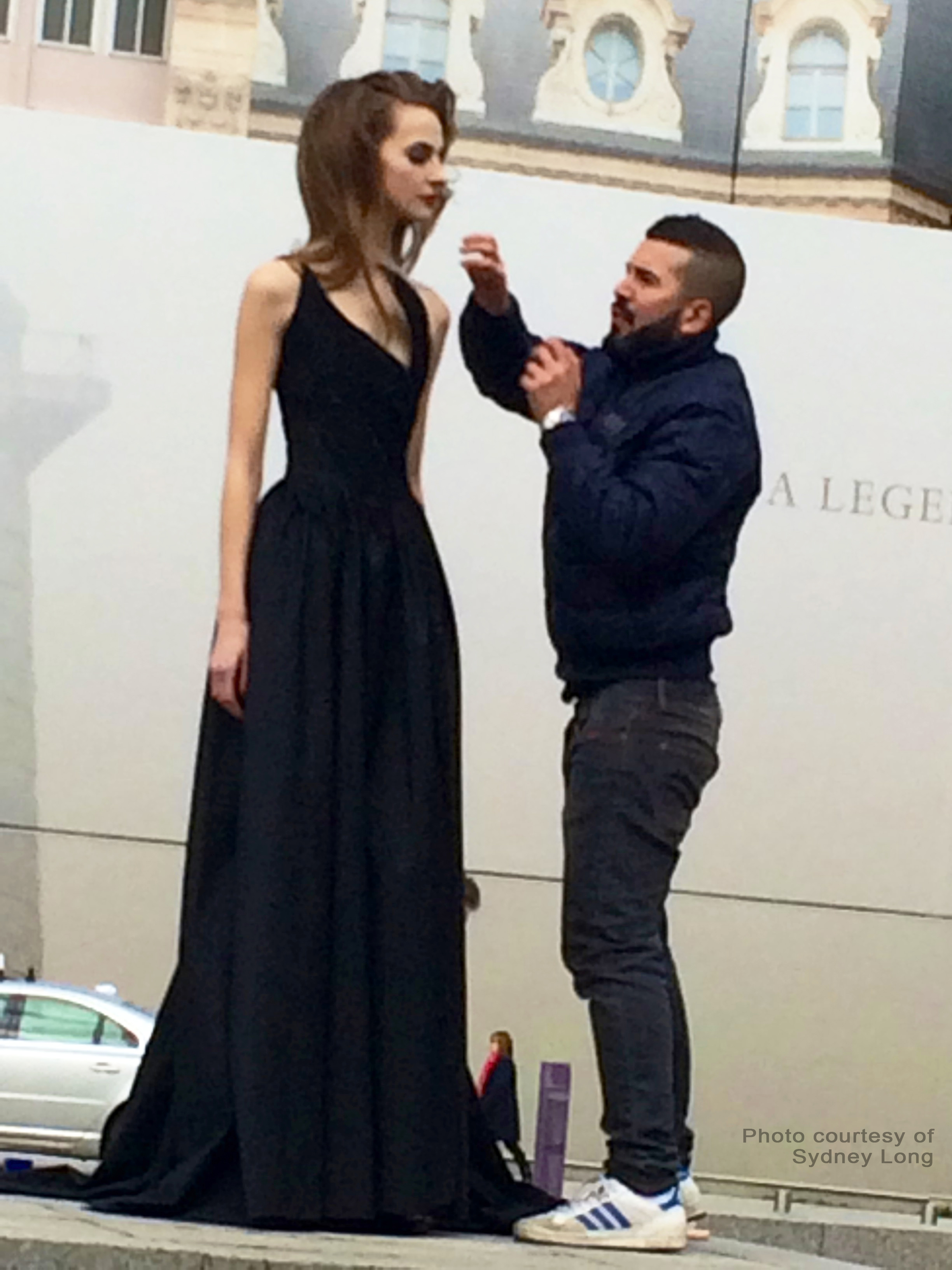 Each day at work, you never know whom you will meet in the shop: from everyday people, to designers, stylists, personal shoppers, and even celebrities such as Kanye West, Janet Jackson, and Rihanna. (Yes. I had the opportunity to meet Rihanna.😀)

The best advice my former supervisor told me when it comes to styling, is to know and understand the client. That means making sure you understand who your client is as a person, making sure that they feel comfortable in the garments, but also be able to push them pass their comfort zone at times.
During my time in Paris, I was given the amazing opportunity to style a look for Paris fashion week. I used a piece from the Rick Owens Fall 2015 collection and was able to see my creation on the model as she walked down the runway.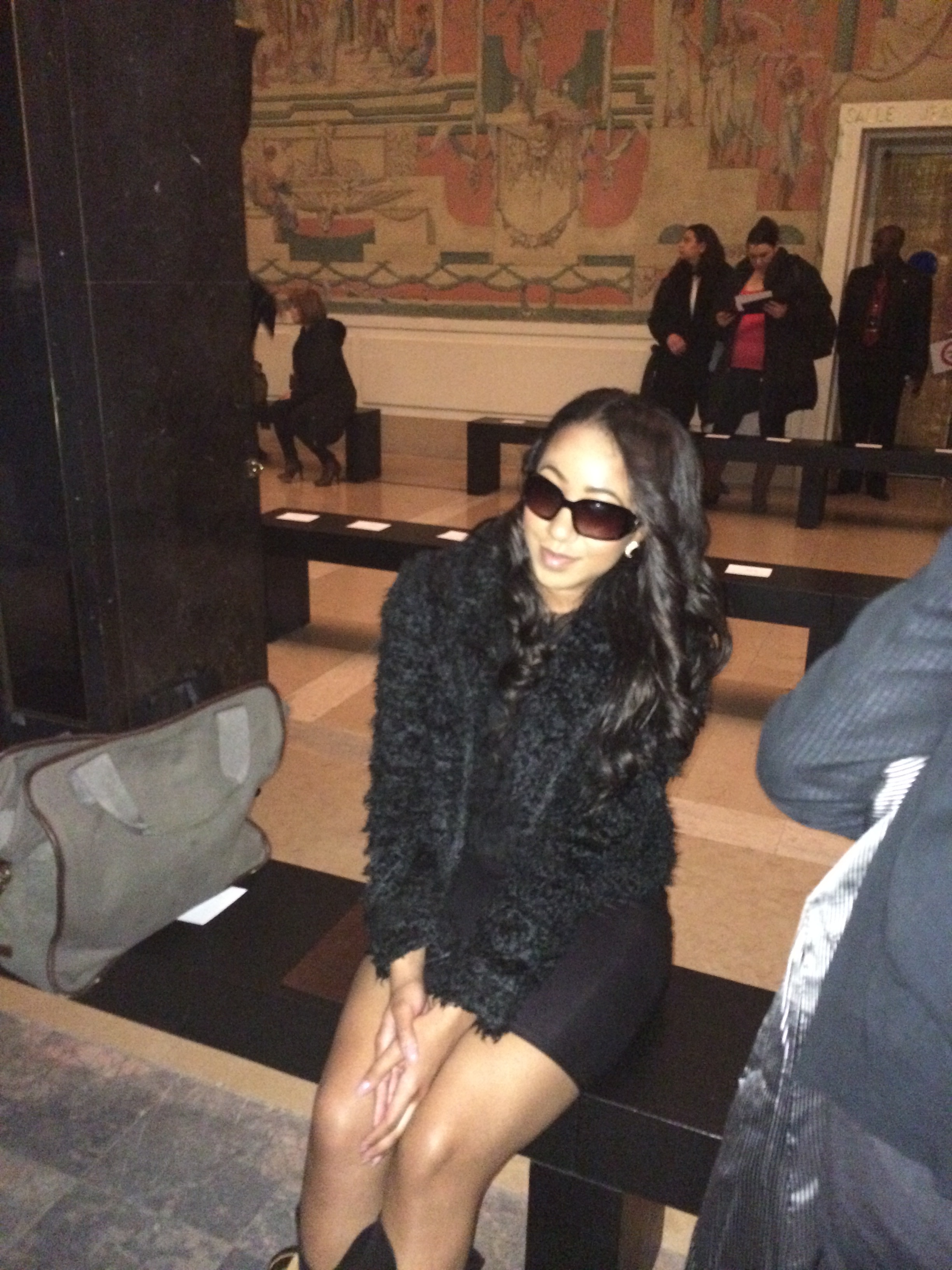 [At the Paris Fashion Week, on my assigned seat!]
Keeping track of all the clothing I use to style clients can be a bit hectic. Trying to remember where you bought certain items or the brand of a particular clothing item… is almost impossible. One solution that would be beneficial to the everyday stylist, would be the Veev app. This will allow a stylist to take pictures, and upload the look to their personal VeeV collection, then refer to it whenever they need to. Networking at industry events happens frequently, with Veev it gives one the crucial opportunity to show future clients and employers looks that I have styled for other clients.
Famous last words….
American and Parisian fashions differ quite a bit. American and French people live two very different lifestyles. American women are always on-the-go, while the European lifestyle is typically more laid back. Each client is also a unique individual, so it is always interesting for me to see the finished look on them. Once they are all dressed up, as they take a look in the mirror, watching their expression is such a sight to see. I think that's my favorite part of being a personal stylist!
Sydney B. Long is a personal stylist based out of Washington DC. She specializes in styles that are girly and glamorous, dressing women for black tie events, parties, and also wardrobe makeovers for the everyday fashionista. She draws inspiration from the Edwardian era of decorative and ruffled blouses, tapered skirts and pants. Potential clients can reach Sydney for a no obligation consultation & quote at long.sydney@yahoo.com