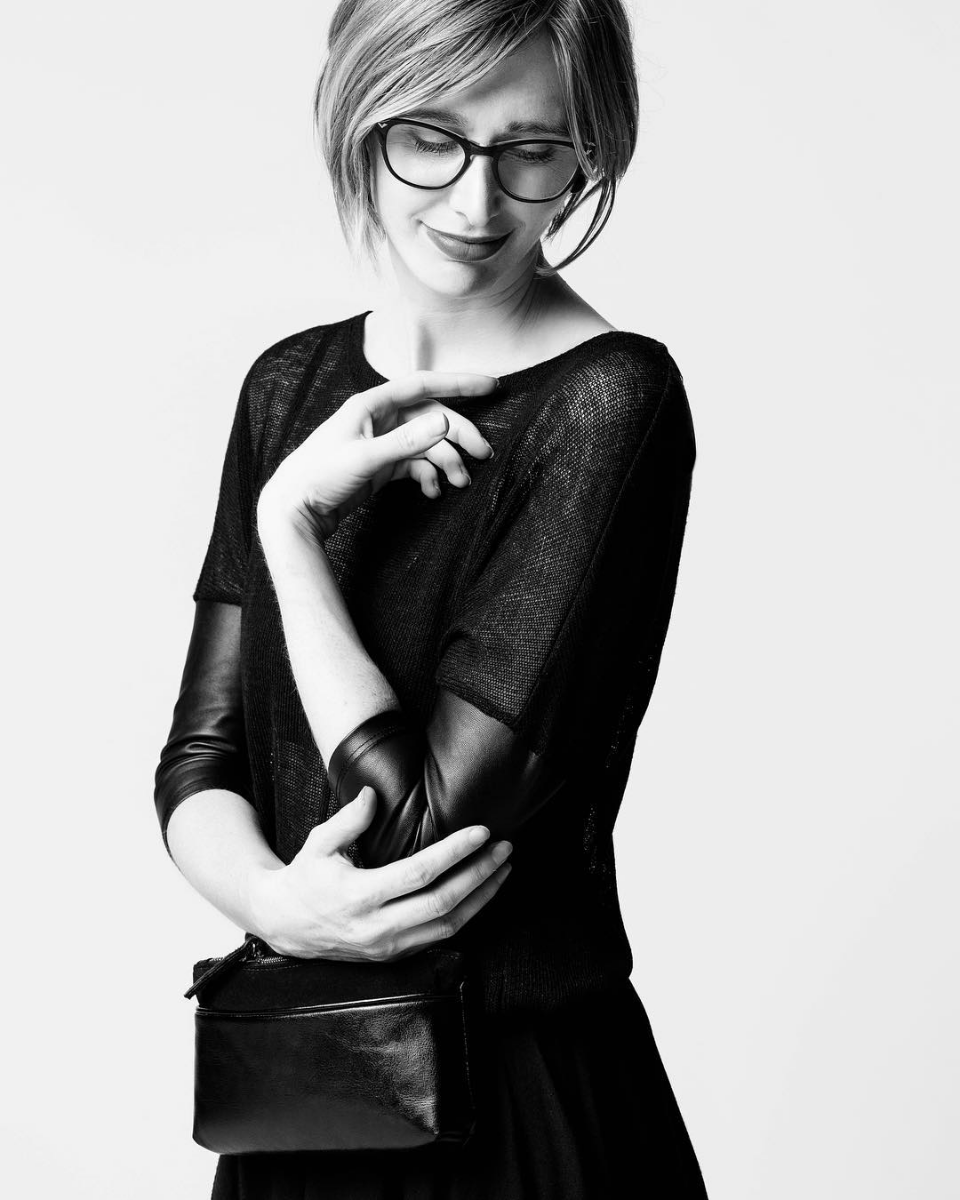 [ Sica Schmitz, LA-based sustainable stylist and owner of ethical boutique Bead & Reel ]
Q: People think that vegan fashion is all about looking hippy. Going on to your site, I think people would be surprised to find these lace-up booties and dress heels handcrafted in Spain (pic: right) that aren't leather 😮.
Sica: Vegan fashion has definitely come a long way! Whatever your personal style, there are definitely beautiful vegan options available these days in a wide range of aesthetics and price points. The women who shop with me are metropolitan, modern, and chic – all without animal products or sweatshops. If someone is interested in getting more into vegan fashion I recommend checking out Ethical Style Journal and Vilda Magazine, both of which offer a wide array of designers, information, and inspiration to find the vegan pieces you're looking for.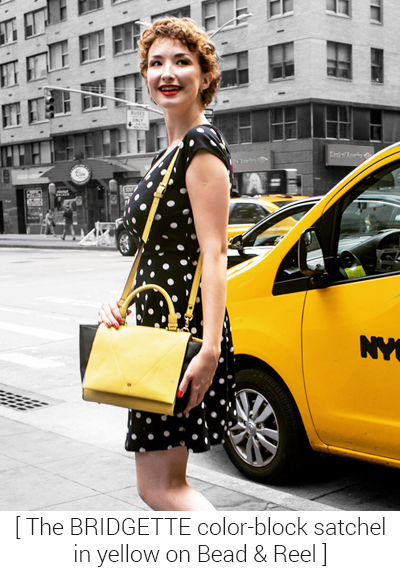 Q: How does vegan leather hold it's own against leather, for our Canadian and East Coast readers, especially when they have to brave cold and wet winters?
Sica: Vegan leather can vary greatly depending what it is made from. Unlike traditional leather – which is always made from an animal skin (and usually chemically treated) – vegan leather can be made from all sorts of things from Polyurethane (which is a plastic, so it's very durable) to pineapple (which is less resistant to weather). They are even working on growing vegan leather in a lab!
I've been wearing some of my high quality vegan leather shoes for years and they get better with age and are so easy to clean (just wipe them with water and you're done!). Whatever aesthetic you are looking for (classic leather, suede, patent leather, distressed leather), there are absolutely vegan options available. Sometimes I will get in trouble because my vegan leather jackets, bags, and shoes are so realistic that people think I am wearing real leather (but, I never am!).
Q: Chemically treated food scares people because it gets consumed. Should we be concerned about chemically treated leather bags, clothing and stuff that just rests innocently on our skin for a brief moment?
Sica: Our skin is our largest organ, and it throughout the day it absorbs everything on it – so, without wanting to cause too much worry, yes, you should be concerned about chemicals on your clothes, bags, jewelry, and accessories! Many chemicals used in fashion are known carcinogens, which is why I am so passionate about offering organic and non-toxic options to my customers.
Q: What about leather that is an ordinary brown? Brown is a natural color, right?
Sica: That's a great question! I think it's important to remember that most colors aren't necessarily "natural" or "unnatural," since so many various colors can be found in nature (and so many things can be dyed to look "natural"!). "Natural" is a very over-used term with very little meaning, which is why at Bead & Reel we offer clear explanations of why we consider something ethical ("Organic" "Recycled" "Plant Based" etc.).
But back to the question about leather: the standard leather tanning process is incredibly chemically intensive and has negative affects on the people and environment around it, regardless of color.


[ Accessories on Bead & Reel that are brown, and not made of leather ]
Q: There's so much new and alternative material coming out now, challenging the status quo. Like silk woven from spiders (no spiders were harmed in the process!) and fabric made from soybeans' liquid waste. Your thoughts?
Sica: I am so fascinated by the amazing innovations happening in sustainable textiles. Things like soysilk (made from soybean waste), pineapple leather (made from pineapple waste), and fabrics made from recycled and up-cycled fibers are not only unique ways to use less resources (or reuse existing resources) but they also make for really interesting and creative fashion. I hope to see more of these options become available and embraced!


[ The Fringe Belt Bag in vegan suede on Bead & Reel – one of the roomiest fanny packs ]
Q: I heard you are recently in to fanny packs! It seems like a good way to carry only what you really need. What's the most you've managed to squeeze into your fanny pack?
Sica: It's true, I'm a proud fanny pack user! Once I discovered the stylish vegan fanny packs by Hipsters for Sisters I ended up ditching regular handbags all together. It's very freeing! While the whole point is really to carry less and not have to live a squeezed life, I do manage to keep a lot of essentials with me: wallet, phone, keys, two (vegan, cruelty-free) lipsticks, headphones, business cards, and a card reader (for ringing up Bead & Reel orders on the go!).
Q: With the shuttering of American Apparel, what are your thoughts, as an L.A. based fashion retailer who also shares their common cause for sweatshop free fashion?
Sica: I'm always sad to see any local businesses or manufacturing close down or leave the area; I always want to see them succeed to show others that it can be done. I hope this is an opportunity for some of the really amazing local designers and manufacturers to come in and fill in where American Apparel left off – perhaps with less controversial marketing.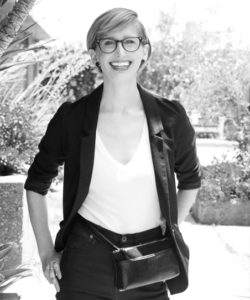 Thank you Sica for sharing with us in depth about how versatile & chic vegan leather accessories can be, not to mention cruelty free and healthier for us and the planet too.
Fashion has always been one of Sica's greatest joys. It started as a child with sewing lessons in her small home town and flourished in fashion school in New York City. Her first job out of college was at a Personal Shopper at Nordstrom which led to her 8 year career in Costume Design for film and television, working on notable projects such as Safety Not Guaranteed and ABC's hit show Castle. Since the 2014 launch of her online ethical boutique Bead & Reel, she has earned a reputation as one of the top experts in sustainable fashion. A regular speaker and writer, she is passionate about using clothing to tell more loving stories, both about ourselves and about our relationship to the world around us.