Not all clothing is made equal. In this style chat, Olga Iriépar Garcìa, sustainable fashion designer and owner of Spanish eco-label A Pompidou, shares with us the sustainable pieces of clothing created in her very own atelier, and how to make a difference with the little details that go in to each step of designing an eco-friendly piece of clothing.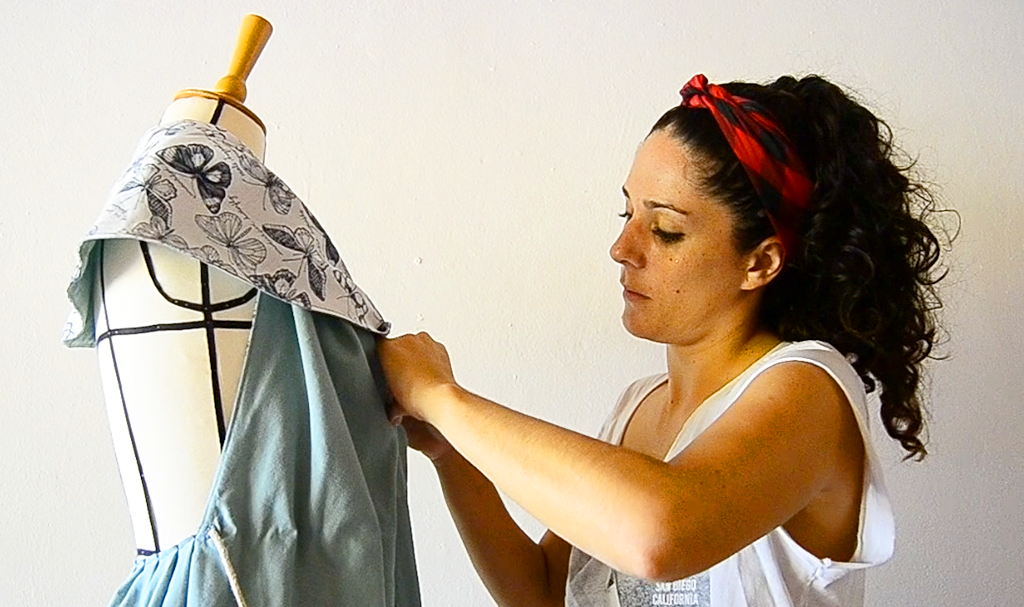 [Spanish sustainable designer Olga working on the Tulipán dress in her atelier]
Q: The logo of A Pompidou looks like a cat. Does the name and logo have any hidden connection with green fashion?
Olga: I didn't choose the cat on purpose as a sustainable image. The cat represents to me independence and courage… for me this animal is a connection between nature and metropolis. I think I choose it as a totem because I love cats and they help me to keep me in a good mood and relax when I need it.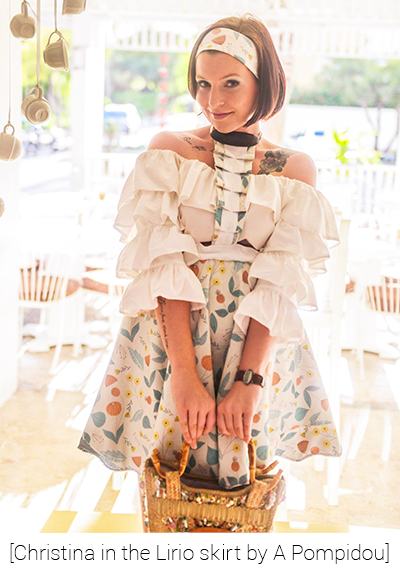 Q: When you first decided to commit to creating your fashion label in a sustainable manner, what were some of the difficult challenges you faced when sourcing for materials?
Olga: The most difficult part at all it's to make it sustainable. Sustainability comprehend a lot of things and is very difficult to meet all the goals at once. In my case, I bought 100% certified organic fabrics for my collections. You need to be very careful where the materials come from and who made them. The traceability of the product you are using for your designs. Also the market for organic and eco-friendly materials is much smaller, so sometimes you have less variety of products to choose to create your designs. The positive thing is that little by little, people around the world is taking conscience about it and more companies jump into the sustainable side and start growing organic material, or using natural dyes, or developing new and innovative techniques.

Q: Many steps in your design process require special care to make sure that they meet the standards of being ecologically friendly. What are some of them, and what do they mean to you?
Olga: We love to take care of the little details during our creative process. It is very important that the fabrics we buy are certified by certain global textile standards. There are many labels that indicate if the fabrics are in fact an 100% organic product.
1. We try to buy local or proximity products when is possible. I think it's not only about the materials to made the designs. To be sustainable you need to take care about what is going on in your studio too.
2. When is possible I like to recycle paper to make my molds, or I keep the remains of fabric to do alternative projects.
3. The flyers and business cards of A Pompidou are made in recycled paper. Every little detail helps.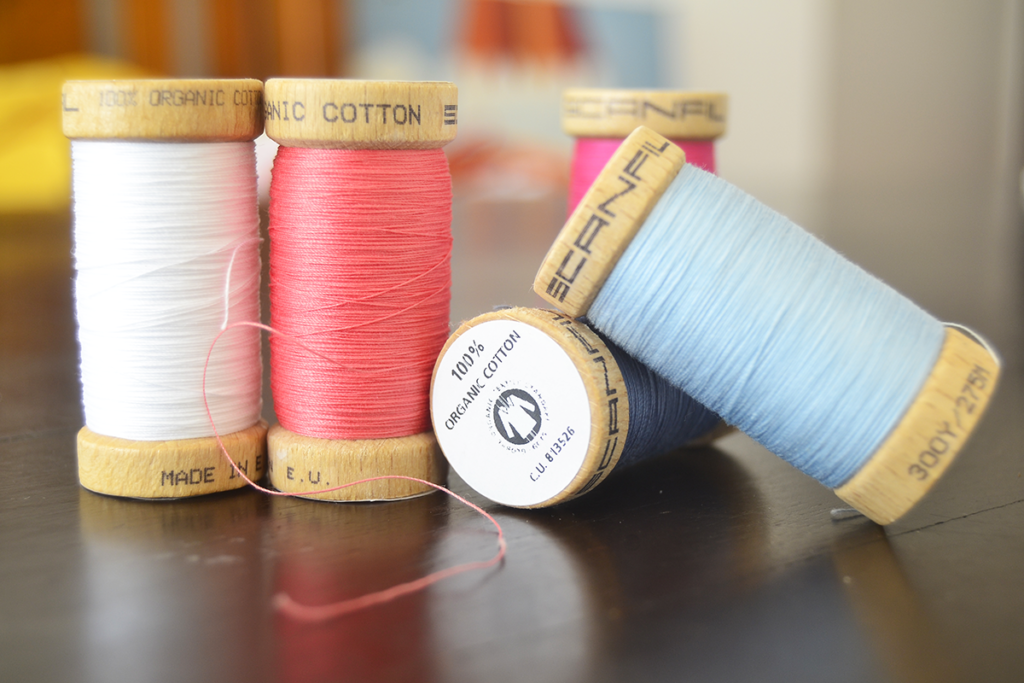 [Buying local with organic cotton thread made in the E.U.]
Q: Recently, you upcycled fabric scraps from A Pompidou to craft Christmas dolls for charity.
Olga: Yes. After the season is finished A Pompidou in collaboration with other groups creates different workshops to recycle the fabrics and to make aware of the importance of give a second chance to every material and not to throw away things.
What I will recommend to other designers is when they have left overs from their collections, they can donate these to upcycling designers or crafters.
Q: Not everyone would find organic clothing affordable, but can everyone still do their part in making what they wear sustainable?
Olga: Well, I think there are always options. Is about taking conscience. For example there are many charity shops or second hand where to buy cheap and nice clothes. Or also swap parties are organize regularly everywhere and this is a great occasion to exchange clothes that maybe is not useful for you anymore but for someone else is a new piece of clothing.
Anyway I think that buying organic is also about buying less but better quality. There are many brands that offer chemical free and organic basic clothes for the price of two or three cheap items, that you will have to throw away because of the bad quality. Instead a good garment can last in your wardrobe for a lot of seasons.
Q: As an eco-friendly atelier designer, what do you think about the renaissance of bespoke clothing and organic trends happening amongst the millennial generation of today?
Olga: To come back to nature and to small businesses is a good thing for the planet and for us. This could bring local employment, better quality products, more natural garments without toxics, even reducing the long journeys that clothes makes today would shorten off the pollution and garbage on the world.
Q: A commitment to being eco-friendly is very challenging, yet it was something you had set your heart on when you graduated from fashion school.
Olga: When I finished my fashion design career, I felt that something was wrong with the fashion world. I start traveling around and then I felt that I missed designing and giving life to my imagination, converting it into garment pieces. So I decided if I wanted to do this, I should do it in different way, as sustainable as I could from the nature and the respect to people.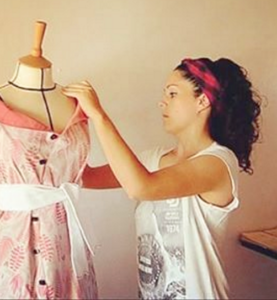 Thank you Olga for taking the time to show what it takes to be different in the fashion industry and to commit to being a sustainable fashion designer. We look forward to your next upcoming collection!
Based out of coastal Andalusia, Spain, Olga Iriépar Garcìa is the designer behind eco-fashion label A Pompidou and an alumna of Instituto Europeo de Diseño. Her ready to wear collection, which features reversible dresses in whimsical patterns, can be found on her website and at select weekend markets around Spain. She also takes custom orders for made-to-measure clothing. In her free time, she enjoys organizing craft workshops for her community, finding even more crafty projects to start on and also she actively participates in the yearly global Fashion Revolution.